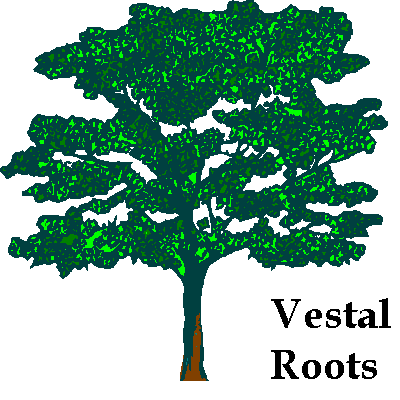 The primary purpose of this page is to provide a source for amateur genealogist that are researching their Vestal ancestors, but I hope to also include other interesting information that I have discovered concerning the Vestal surname.
---
FAMILY NAME HISTORY
The origins of the Vestal surname are not clear. Research, however, indicates, that the name is of German patronymic origin. Patronymic names are those surnames which derive their origin from the first name of the father of the initial bearer. In this instance, the surname Vestal derives from the German name Vestl, which in turn derives from the Old High German "fasti" meaning "firm" or "celebration". The name also derives from the Gothic "fasten" meaning "to preserve. Research also indicates that, the name is a pet form of the personal name Sylvester. The name Silvester derives the Latin and means "a man in the forest". The personal name Sylvester was very popular in the middle ages, largely due to spread of devotion to Saint Sylvester who lived in the fourth century. He was a Roman by birth and the first pope after recognition of the Christian church as a lawful society. Sylvester was pope from 314 to 355, when he died. According to some documents it is believed that the first Christian Roman emperor conferred sovereignty over Italy and the Western Empire on Sylvester and his successors. Some etymologists believe, that the name is of occupational origin, deriving from the trade or profession of the original bearer. In this instance, the name Vestal derives from the Middle High German "vestenen" meaning "to build", here the name indicates a builder. The surname Vestl and it's variant forms of Vest, Fest, Vestner, Vester and Festl can be found in documents dating back to the fourteenth century. One Bentz der Vester was a resident of Esslingen in the year 1371. One named Vesterguot was a resident of Herdwangen, near Pfullingen in the year 1410. Documents for the year 1411 indicate on Ulrich Vest was residing in Konstanz. A family named Vestal was residing in the Saxon area of Germany."
SOURCE:The Historical Research Center, Inc. (Purchased in a Christmas mall concession near Wilmington, DE in 1993.)
---
SOURCE: "Our Family Heritage by Minnie Speer Boone, The American Historical Company, Inc, New York 1956
The Vestal Family
Traditions
The name Vestal carries us back to Roman times. It signifies one dedicated to Vesta, the Latin Goddess of the Household. But the name is even older than Latin. It comes from the Sanskrit "Vas" and means "one who dwells" (hence, the goddess of the home).
A phamphlet on the Vestal Family issued in 1862 by Asa Vestal states that two brothers, William and Daniel, embarked from London, England in 1683. Daniel died on the way over and was buried at sea.
---
Other Interesting Items
---
My Grandpa, James Thomas Vestal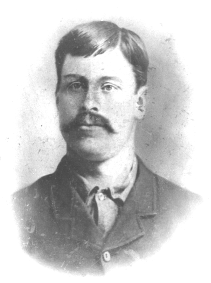 Please send your comments or contributions to: vestalroots@vestals.us